Numéro Sept Belt - Black Textured Leather
Numéro Sept Belt
Black Textured Leather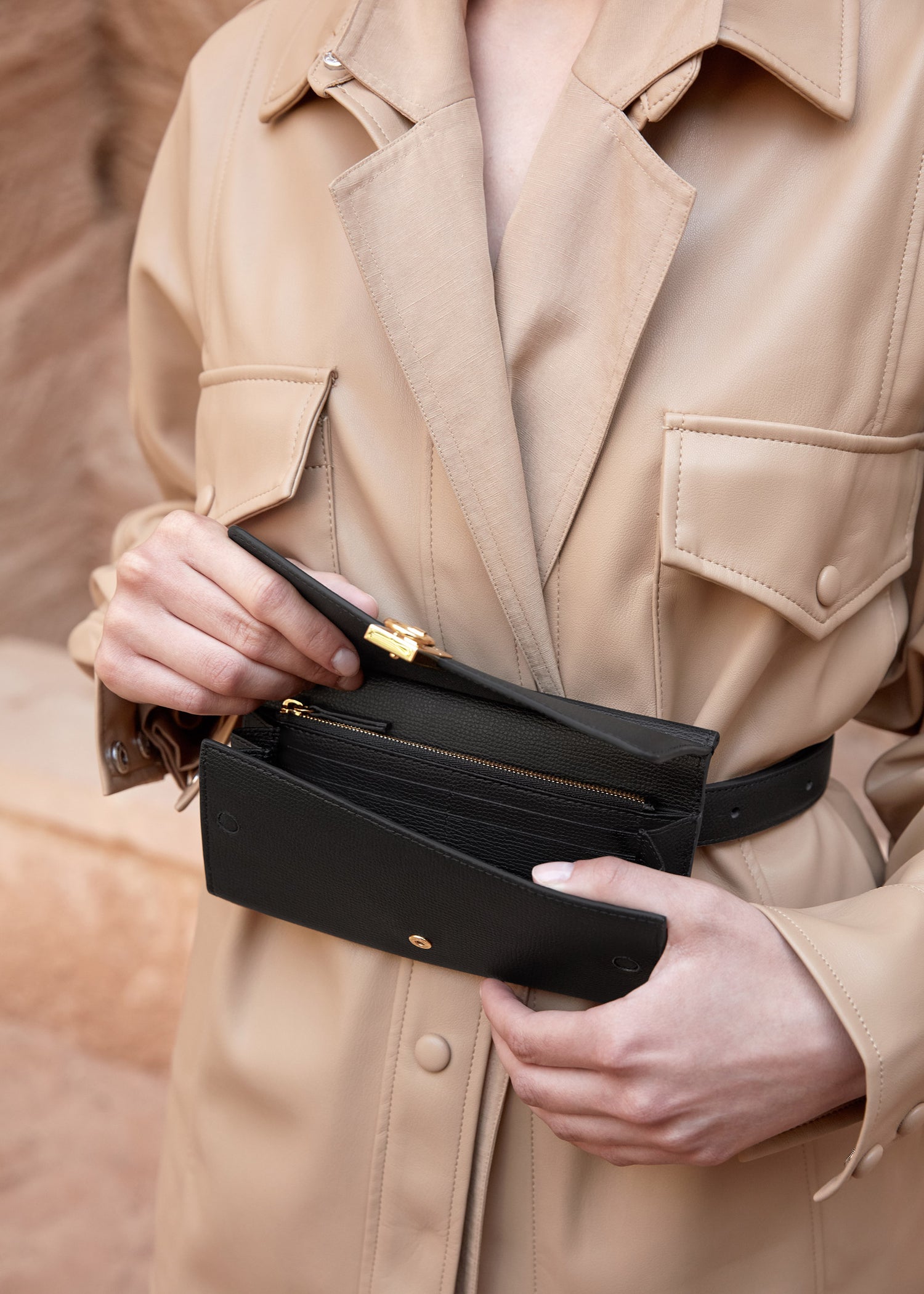 Numéro Sept Belt
Edition Black Textured Leather
Wallet N°7 - Belt Bag - Black Textured Leather
Long continental flap wallet, with leather interior. The removable belt allows the bag to be worn either around the waist or cross body.
8 card slots.
2 pockets for notes.
1 inside zipped coin compartment.
1 central compartment large enough to hold a smartphone (up to 17cm long).
Closes using a built-in pop button.
Two different sized belts (size 1 & 2) each with a collar stud, one fixed loop and one removable loop.
10 holes allow you to adjust the buckle for the perfect fit.
Certified Italian full grain textured calf leather. Gold-plated stainless steel buckle. Leathers selected by Polène are sourced from certified European tanneries and require minimal maintenance. A few steps can be taken to maintain the original appearance. Avoid prolonged exposure to direct light or heat, and keep away from water, greasy substances, perfumes, and cosmetics. Use caution with dark or new clothing, as the dye may bleed. If the leather becomes wet, absorb excess liquid by dabbing gently with a soft cloth. Allow to dry at room temperature. There is no need to apply a maintenance cream. Store in its Polène box.
Comes in a Polène cardboard box and pouch.
Delivered within 5 days to mainland France and Monaco; 6–7 days internationally. See shipping rates
Returns accepted within 15 days after the order is received. Returns
Description

Wallet N°7 - Belt Bag - Black Textured Leather

Long continental flap wallet, with leather interior. The removable belt allows the bag to be worn either around the waist or cross body.

8 card slots.

2 pockets for notes.

1 inside zipped coin compartment.

1 central compartment large enough to hold a smartphone (up to 17cm long).

Closes using a built-in pop button.

Two different sized belts (size 1 & 2) each with a collar stud, one fixed loop and one removable loop.

10 holes allow you to adjust the buckle for the perfect fit.

Size & fit

Materials

Certified Italian full grain textured calf leather. Gold-plated stainless steel buckle. Leathers selected by Polène are sourced from certified European tanneries and require minimal maintenance. A few steps can be taken to maintain the original appearance. Avoid prolonged exposure to direct light or heat, and keep away from water, greasy substances, perfumes, and cosmetics. Use caution with dark or new clothing, as the dye may bleed. If the leather becomes wet, absorb excess liquid by dabbing gently with a soft cloth. Allow to dry at room temperature. There is no need to apply a maintenance cream. Store in its Polène box.

Shipping and returns

Comes in a Polène cardboard box and pouch.
Delivered within 5 days to mainland France and Monaco; 6–7 days internationally. See shipping rates
Returns accepted within 15 days after the order is received. Returns